Home
Current Listings
Recent Sales
For Sellers
Home Valuation
For Buyers
North Toronto
Lawrence Park
Davisville
Annual Sales
Market Watch
Bosley Real Estate
MLS Zone Map
Resource Centre Realtor.ca
email Adam

Welcome to Life in Davisville

Davisville Village is a centrally located Toronto neighbourhood. From a "home ownership" perspective the area is extemely popular with young families and couples, who purchase detached or semi-detached houses, renovated or otherwise in the area. The proximity to several excellent schools enhances the desire to locate here. There are numerous condo buildings in the area catering to, and popular with singles, couples accumulationg equity and empty-nesters alike. The Davisville neighbourhood is known for excellent recreational facilities, outstanding shopping, active nightlife and a great selection of restaurants. Davisville is delineated and influenced by Bayview Avenue to the East, Yonge Street to the West (with Mount Pleasant Road running between Yonge and Bayview), Eglinton Avenue East to the North, and Mount Pleasant Cemetery to the South.

The majority of Davisville houses were built during a post War building boom in the 1920's and 1930's. The houses west of Mount Pleasant Road are mostly two and three-storey English Cottage and Edwardian-style homes. Interspersed are a number of duplexes and apartment buildings. The houses east of Mount Pleasant Road consist primarily of detached, semi-detached 2 storey and bungalow structures. There exists a handful of historical homes from the late 1800's, and an ever growing number of new 2 or 3 storey custom built or renovated homes 2000 - 3000 square feet in size. Within Davisville Village also exist a number of condominium buildings centred around Merton and Balliol Streets and along Eglinton Avenue. Many high-rise apartment buildings on Davisville Avenue are popular with renters.

Davisville's main shopping areas are Mount Pleasant Road, Yonge Steet and Bayview Avenue. The Mt. Pleasant stretch include a selection of antique shops, home decorating stores, children's clothing and toy stores, and an excellent selection of restaurants, which all contribute to the vibrance of our community. Davisville Park is a recreational centre offering tennis courts, baseball diamond, wading pool and playground, making this park popular at all times of the year. Davisville Park six tennis courts are used by the Davisville Tennis Club on evenings and weekends. This club has an active house league and tournament schedule. An outdoor skating rink is locted at Hodgson Senior School.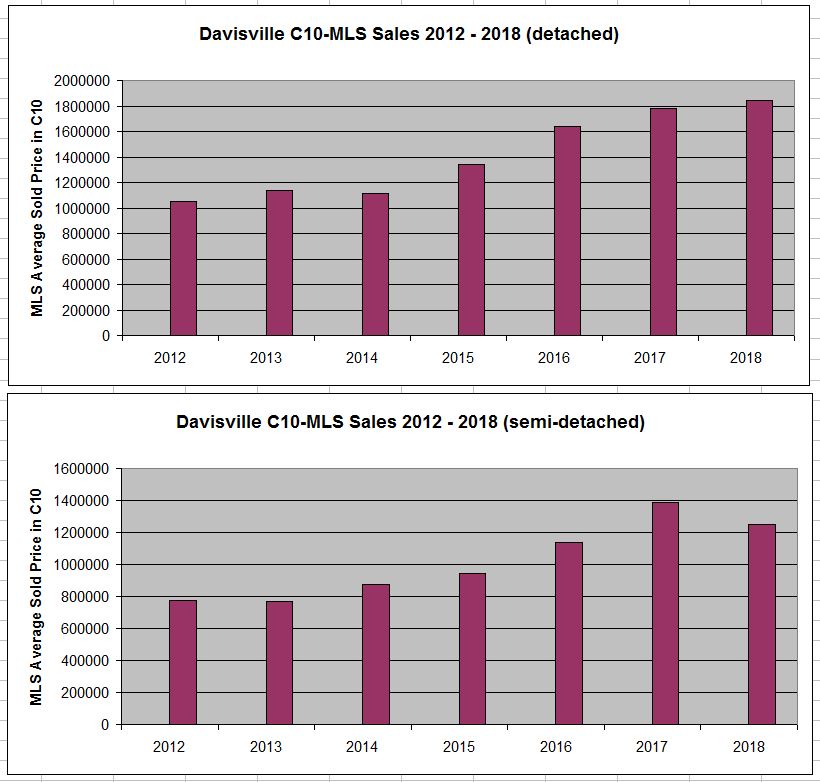 >
Local Schools:

Davisville / Metropolitan School for the Deaf PS, 43 Millwood Rd., 416-393-0570
Eglinton Jr. School, 223 Eglinton Ave. East, 416-393-9315
Hodgson Sr. School, 282 Davisville Ave., 416-393-0390
Maurice Cody Jr. & Sr., 364 Belsize Dr., 416-393-9240
Spectrum Sr. Alternative School, 223 Eglinton Ave. East, 416-393-9311
North Toronto Collegiate Institute, 70 Roehampton Ave., 416-393-9180
Northern Secondary School, 851 Mt. Pleasant Rd., 416-393-0270
Manor Road Montessori School, 240 Manor Road East and 14 Desavery Crescent.
Sunnybrook School, 469 Merton St., 416-487-5308.
Greenwood College School, 443 Mt. Pleasant Rd., 416-482-9811.

There is TTC bus service on Mount Pleasant Road, Yonge Street, Davisville Avenue and Eglinton Avenue. These bus routes connect passengers to the Yonge-University-Spadina subway line. The Davisville and Eglinton subway stations are within an easy walking distance of this neighbourhood. This area offers motorists quick access to downtown Toronto via either Bayview Ave, Mount Pleasant Road or Yonge Street. Toronto's highways and expressways are located within a very short drive of Davisville Village.
© COPYRIGHT 2009 ALL RIGHTS RESERVED www.davisville.biz